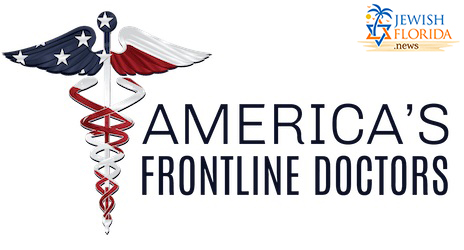 America's Frontline Doctors (AFLDS) Sunday announced they will provide a new service dedicated to providing science-based facts about COVID-19 and fighting medical cancel culture and media censorship.
AFLDS founder Dr. Simone Gold, MD, JD, FABEM said: "Frontline Facts" will expose egregious media lies and provide the truth to the people so they can freely navigate their own lives." She said Frontline Facts will also provide a tips hotline for medical professionals and journalists worldwide to report irregularities and help AFLDS protect physician's independence from government overreach.
Directing Frontline Facts will be Israel-based investigative journalist Mordechai Sones. Sones is News Anchor for the popular Israel News Talk Radio and has just ended more than four years reporting for Israel National News – Arutz Sheva, where he has provided extensive COVID-19 coverage since the beginning of the outbreak. Israelis from across the political spectrum have praised Sones' courageous exposé work, calling him "the only journalist in Israel covering these issues."
Dr. Gold said: "Sones has been trying his hardest to expose the corruption and has been constrained but working for AFLDS he will be able to get the truth out on a bigger stage."
Speaking about his new mission for AFLDS, Sones said: "The news media is an essential component of the ongoing globalization of medicine. Some say the media is even serving 'tyrannical objectives'. By suppressing vital information, the media has ceased to keep people well-informed but instead acts as a public relations arm of the official health authorities."
He continued: "Public health information worldwide has been co-opted by a political agenda, with national policies determined by a centralized globalist entity. My job will be to clarify key facts essential to understanding the wider picture that the government has either suppressed or the media has failed to report."
"For example," Sones continued, "What caused a nine-fold jump in 'COVID-19 morbidity' – especially in pregnant women, especially in Israel, in January compared to November, coinciding with the start of the vaccination campaign, including the aggressive Health Ministry campaign to encourage pregnant women to get vaccinated, and why does the Ministry refuse to publicize vaccination data for pregnant women?
"The news media, with their shockingly poor reportage, have demonstrated disregard for the dignity of their profession and have failed to uphold the honor of the press.  America's Frontline Doctors recognizes the importance of free information in a democratic society and is providing a medium for its protection," Sones added.
Source: https://www.americasfrontlinedoctors.com/americas-frontline-doctors-announces-frontline-facts-names-mordechai-sones-news-director/