Rock star memorabilia, casinos and kosher food? They will soon go together in a changing Hollywood neighborhood. This summer, a 100-room boutique hotel, Dolce by Wyndham Hollywood, opens across the street from the Seminole Hard Rock Hotel & Casino's Guitar Hotel and its Hard Rock Live concert venue that recently attracted superstars like Elton John, Bruce Springsteen and Janet Jackson. Wyndham's marketing strategy for its new Dolce includes tapping Hollywood's growing Jewish population by offering amenities including a rooftop kosher dining facility that complies with dietary restrictions and, on the Sabbath, an elevator that automatically stops at every floor, according to Sabrina Graves, general manager. The hotel will open in July, Graves said.
The Dolce will sport a rooftop pool and a bar and restaurant serving Asian-inspired cuisine, and a lobby café with espresso, pastries and grab-and-go breakfast. The Dolce also will feature shared and private balconies overlooking the Hard Rock's Guitar Hotel that towers more than 400 feet in the air. And there will be quite a view. As a Miami Herald story wryly noted in October 2019, the mammoth neon-lit guitar over west Hollywood, just east of Florida's Turnpike, was large enough that NASA could even note that "it's visible from outer space." For years the Seminole's Hard Rock property, with The Guitar Hotel, concert hall, casinos and restaurant rows, was the sole splashy lure to a neighborhood notable for its nondescript strip malls of fast food joints, salons and gas stations on busy State Road 7.
But The Guitar Hotel is getting some company with July's arrival of the six-floor Dolce at 5350 State Road 7, and a second kosher-themed hotel, designed as a $70 million mixed-use residential space of 16 floors with 64 condominium units called the Plaza 441, rising two blocks away at 5300 State Road 7. And, no, they won't be shaped like musical instruments.
The Dolce's private and shared balconies overlook The Guitar Hotel. But the prospect of competing hotels doesn't faze The Guitar Hotel's ownership. "The multi-billion dollar investment in The Guitar Hotel and the expansion of the Seminole Hard Rock have clearly boosted economic opportunities throughout the neighborhood," Gary Bitner, spokesperson for the Seminole Tribe of Florida, said in a statement to the Miami Herald.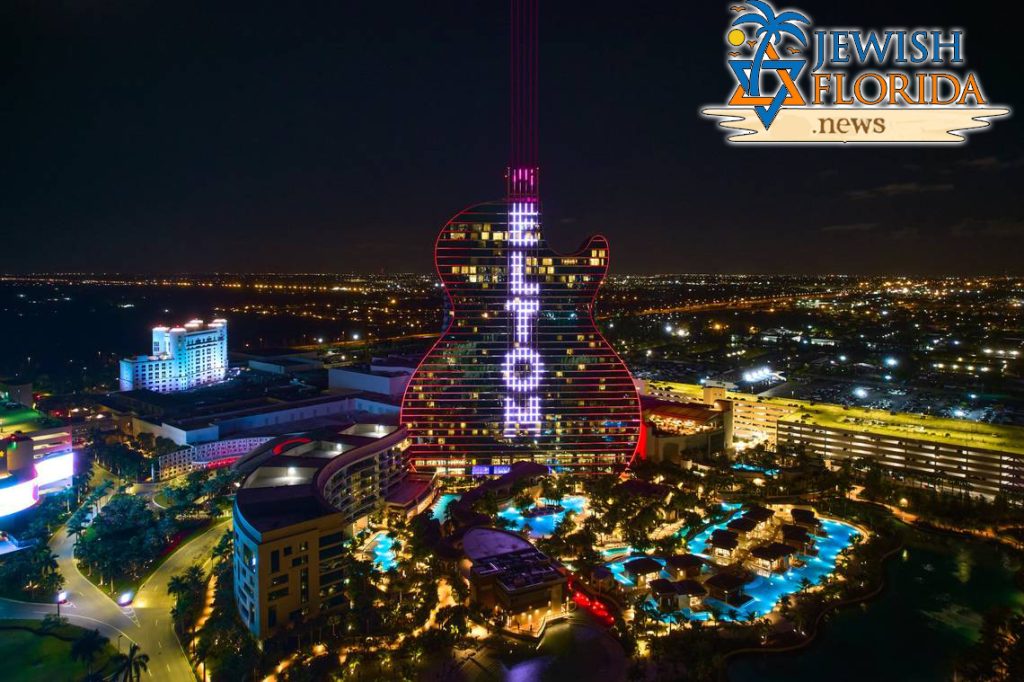 The Dolce and Plaza 441 were both developed by Boca Raton-based BSD Capital, The Real Deal reported in 2021. A spokesperson from BSD did not return a Miami Herald query on the plans. The pitch to Hollywood's growing Jewish community near State Road 7 makes sense when you consider the coming hotels' proximity to the heart of Hollywood's Orthodox community, which is framed by Stirling Road on its north and between North Park Road and North 56th Street as its east and west borders, according to The 5 Towns Jewish Times (5TJT).
The Jewish communities near The Guitar Hotel, Wyndham's The Dolce and Plaza 441 also includes such neighborhoods as Emerald Hills, with its homes, synagogues and kosher businesses. To its north is Arapahoe Farms, The Preserve, Forest Park, and Hollywood Oaks, 5TJT reports. Also, farther north, extending toward Griffin Road are developments including Mapleridge and Oakridge that are populated by many members of the Young Israel of Hollywood, which hosts more than 650 families. Neighboring synagogues number more than a dozen. Kosher restaurants abound, too, all, perhaps in response to the growth of the region's diverse Jewish population over the last 10 years.
That could be why Sharon Sharaby, one of the BSD developers of the new projects reshaping the Hollywood SR 7 neighborhood near The Guitar Hotel, told The Real Deal in 2021 that a Florida hotel there providing 24/7 kosher services fits. The properties, he said, could lure Jewish travelers who want want to visit casinos but may be attracted by prices at the new venues that are reportedly scheduled to be less than the established Seminole property by a couple hundred dollars a night. "There are people who look at casinos like the ocean: They want to wake up in front of a casino," Sharaby told The Real Deal. Hollywood's population is about 152,000, according to the U.S. Census. The Jewish population in Hollywood makes up about 1.2% of Hollywood residents, according to Dwellics, third behind Protestant (16.7%), Catholic (16%) or those identifying as no religious affiliation (63.5%). Totally Jewish Travel listed Hollywood's Jewish population as around 13,000, with about 30 kosher restaurants spread throughout the city.