Two Florida Chabad Centers open playgrounds in memory of school shooting victims
Two state-of-the-art playgrounds are opening at neighboring Chabad centers in Coral Springs and Parkland, Florida, each dedicated to one of the seventeen victims of the 2018 Marjory Stoneman Douglas High School shooting in Parkland.
The first, Meadow's Playground at Chabad of Coral Springs, sponsored by the family of Meadow Pollack, has already been in use since October, though COVID restrictions made a grand opening unfeasible. "Many families who are social-distancing due to the pandemic feel safer bringing their children to play in a private playground," says the family's rabbi, Avraham Friedman, director of Chabad of Coral Springs.
The project was started soon after the Pollack family finished sitting shivah for Meadow, who was eighteen years old, a high school senior and aspiring attorney, at the time of the attack. "I wanted her to be remembered through play and fun," says her father, Andrew Pollack. "I want her soul to be expressed through laughter."
Coral Springs Chabad is located near the high school where the shooting occurred. "I will never forget that horrific day," says Rabbi Friedman. "I'll never forget when Andy told me his daughter was probably among the fatalities. And now we can also juxtapose that fateful day with a beautiful, happy setting, in a place of joy."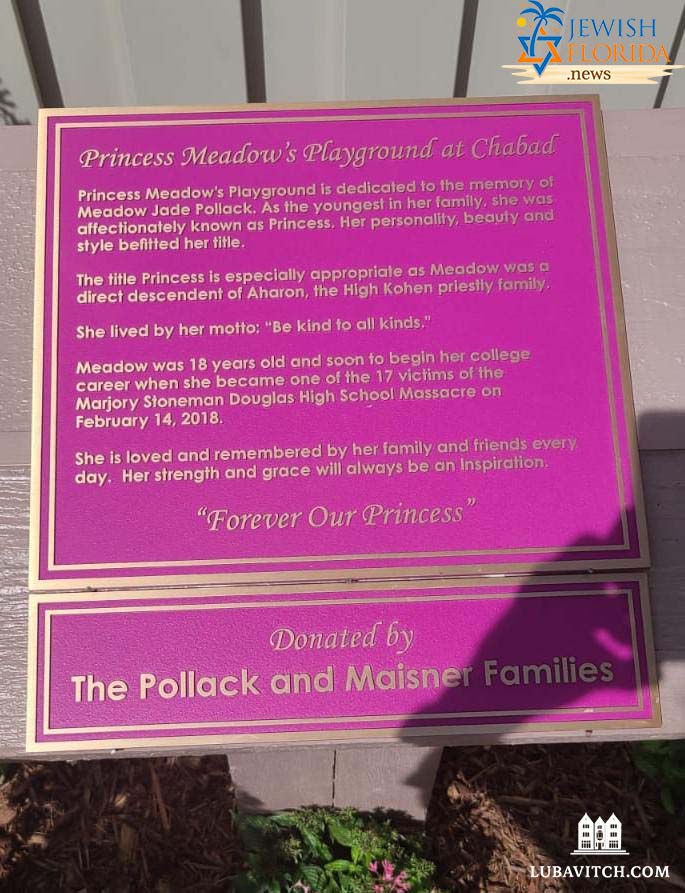 City permits for the second Chabad playground, in Parkland, also near the school, are now being finalized. The $150,000 project is being spearheaded by Ilan and Lori Alhadeff in memory of their daughter Alyssa, who was just fourteen when she was murdered in the shooting. They are partnering with the Where Angels Play Foundation, which builds playgrounds in places affected by violence, and have raised about two-thirds of the necessary funds.
"Our community and Chabad family really came out in full force to support us after the tragedy," says Ilan. "They were really there for us and we felt this would be a beautiful way to give back to our community. We couldn't think of a better location."
The 3,500-square-foot playground will serve the over 300 students of Chabad's Sunday Hebrew School and recently opened Preschool for the Arts. It will be fitted with inclusive structuring so children with special needs attending the Friendship Circle of North Broward and South Palm Beach can enjoy it too.
"Alyssa celebrated her bat mitzvah at Chabad," remembers her rabbi, Shuey Biston. "She was very outdoorsy, athletic, and the park is going to honor that by incorporating her beloved soccer team colors." He is hoping to complete construction in May, around her birthday.
Chabad of Parkland is also erecting a memorial structure made up of butterflies, available for dedication at $1,000 each, that bridges the center to the new playground. It's their second memorial to the Parkland victims created by Israeli artist Joel Amit. The first is a display of 3,320 eagles, one for each student who was present on February 14 of 2018, that come together to form seventeen larger eagles soaring through a heart. The second creation will feature as many butterflies forming the word "Love." "The eagles are at the entrance to the center, remembering the past," says Biston. "The butterflies are at the back exit leading to the playground, signifying the future."
"The shooting really underscored the importance of instilling values and developing the souls of our children—not just making sure they do well academically," says Friedman. "Our synagogues play a big part in the children's moral development, and this playground will make that holy environment more fun and attractive."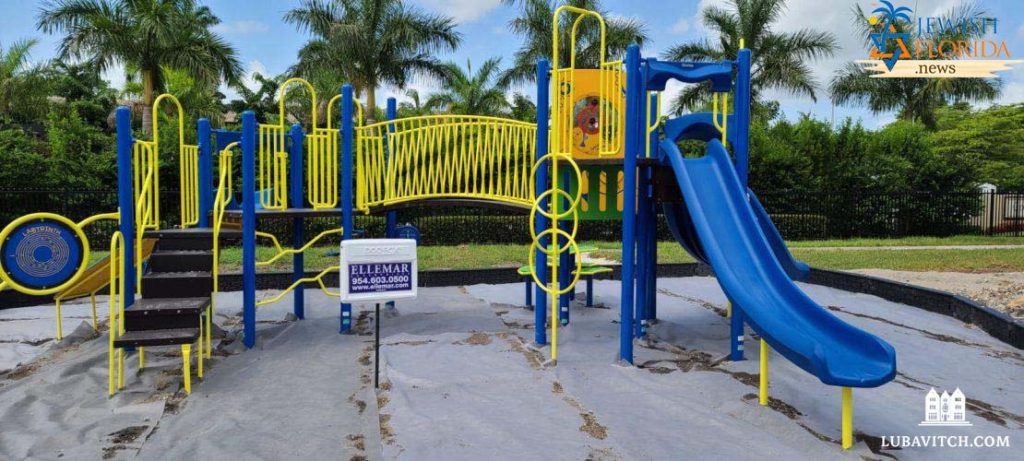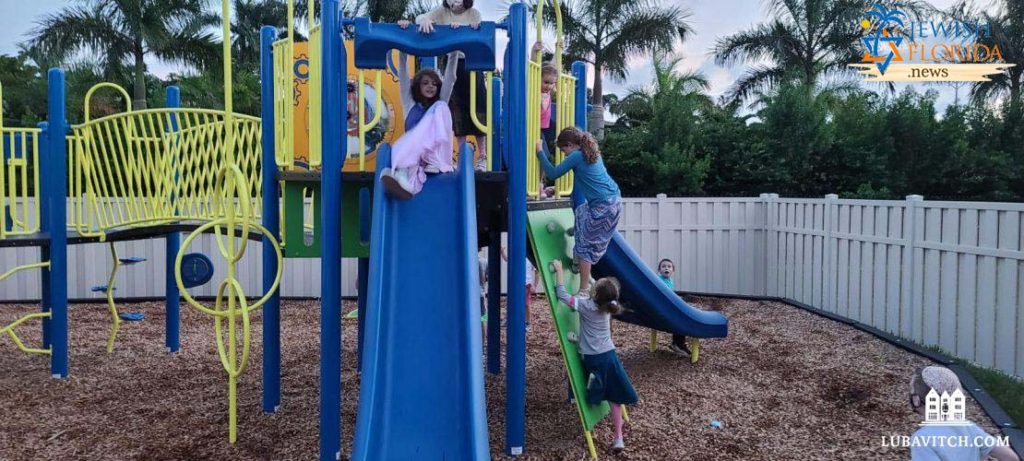 Source: https://www.lubavitch.com/turning-lament-to-laughter/