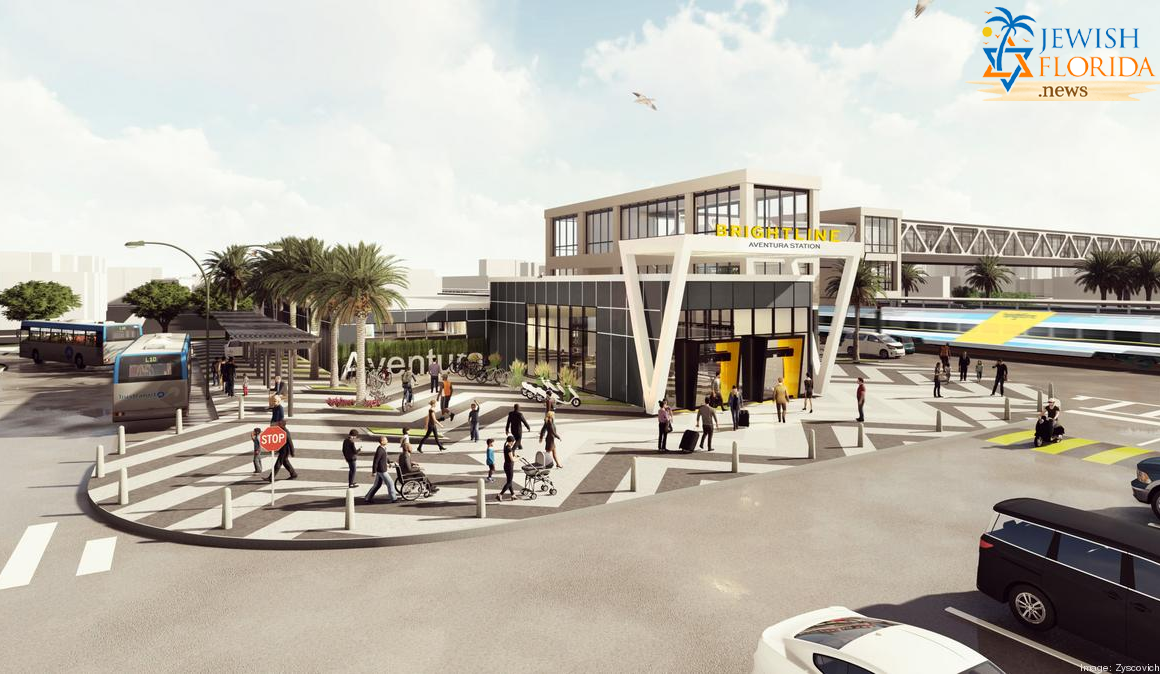 Brightline Station Opening in Aventura
By JewishFlorida.news Staff
The new Brightline station in Aventura is almost ready for riders, with the exception of a few finishing touches. The station is located at 19796 West Dixie Highway, on the west side of Biscayne Boulevard and across from the Aventura Mall. The pedestrian footbridge will be finished soon, and the station will be fully furnished and operational.
After years of anticipation, groundbreaking work, and construction, Brightline's CEO Patrick Goddard said the $76 million project will finally open before the end of the year.
Miami-Dade County Commissioner Sally Heyman said the goal for the newest station is to relieve major traffic gridlock in the area, before taking a tour of the station with Aventura Mayor Enid Weisman.
One thing that riders will notice when they come to the Miami station is that it's smaller, but Brightline promises that it will have all the same features: lounges, touch-less security, and a focus on being eco-friendly.
"The station will open up and expand the backyard of residents in this community and get them access not just to downtown Miami, but to Fort Lauderdale to Boca Raton to West Palm Beach," Goddard added.
"The reality is we needed a transportation option…," Heyman said. "We keep apologizing for the gridlock, but when you have more people that need to be mobile there's no option. This is your option."
So, When Will It Open?
Brightline's Aventura station is set to open by the end of the year, though an official announcement with an exact date is expected to come within two weeks of the first train leaving the station.
How Long Will It Take To Ride The Train From Downtown Miami To Aventura?
If you're looking to get from downtown Miami to Aventura in record time, the Brightline is your best bet. In just 15 minutes, you can be on your way to your destination. It's something that many people thought was impossible, but the Brightline is making it a reality.
But that isn't the only place you can get to in a flash. With Brightline, you can get from Aventura to any of our other stations faster than ever before:
West Palm Beach: 56 minutes
Fort Lauderdale: 14 minutes
Boca Raton: 32 minutes
What Will The Cost For The Parking Be?
The Aventura station has 240 parking spaces available for a fee, as well as a bus drop-off for Miami-Dade Transit riders.
Save money by paying for parking in advance! It'll only cost you $5. But if you wait until you get to the lot, be prepared to pay $12 – the same rate as Brightline's Miami station.
Will Brightline+ Be Available At This Station? If So, Where Can It Take Me?
Brightline+ offers private rides in a Tesla, vans or buses, and even rents out bikes. With so many options, you're sure to find a mode of transportation that suits your needs.
Brightline is working with businesses and cities to establish travel routes that riders can use to get from the station to Aventura Mall, Hallandale Beach, or Hard Rock Stadium.
What Will Be Inside The Station?
If you're looking for the same great services offered at Brightline's Miami station, you'll be pleased to know that they're also available at the Aventura station. Although the Aventura station is smaller, it still offers a premium lounge for certain guests and a SMART lounge for others. You can also grab and self-pay for items and food at the "autonomous MRKT," with no cashiers around.