Florida's western Gulf Coast is experiencing a deadly red tide event.
A harmful red tide algae bloom in southwest Florida has left hundreds of thousands of tons of dead marine wildlife and debris in waterways in the Tampa Bay area, prompting calls from environmentalists for Gov. Ron DeSantis (R) to declare a state of emergency.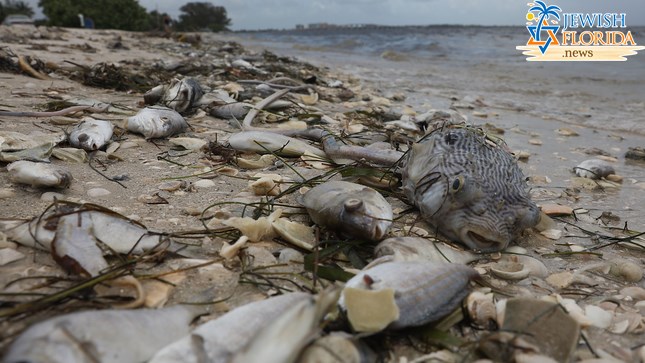 The Tampa Bay Times reports that Pinellas County officials have removed 1,277 tons of red-tide related debris and dead marine life from waterways in and around Tampa in recent weeks, with 300 tons recovered on Friday and Saturday alone. Officials have reported picking up dead loggerhead turtles and at least one dead dolphin in recent days, according to the outlet.
Red tide is a toxic algae bloom that occurs naturally nearly every summer in the Gulf of Mexico, but it can be worsened by nutrient pollution like nitrogen, ammonia and phosphorus from human activities.
Conservationists are blaming the disastrous algae bloom on discharges from the Piney Point phosphate operation in Tampa Bay that occurred in April. More than 200 million gallons of polluted water from the plant was allowed into the bay to avoid the wastewater from flowing into neighborhoods.
"Red tide's carnage is horrific and infuriating," Jaclyn Lopez, Florida director at the Center for Biological Diversity, said in a statement this week.
"Tampa Bay desperately needs help cleaning up this mess, and Florida needs to get its act together and start holding polluters accountable or this will continue to be a significant threat to our way of life," Lopez said.
Conservation groups have urged DeSantis to declare a state of emergency to help mitigate the disaster. 
The governor has declined to declare a state of emergency, arguing it would not be helpful as the state has already allocated funds for cleanup.
"A state of emergency does not help our economic vitality at all," DeSantis said Wednesday during a news conference.
"The only way that would be helpful is if we had no money," he said. "The fact is, we budgeted money for this. We have money for this."
DeSantis said Wednesday conditions are improving in the region and noted at least 2.1 million has already been committed for cleanup costs in Pinellas County, with resources available to provide additional assistance. He said Hurricane Elsa appeared to have been a factor in fueling the red tide.
Source: https://thehill.com/changing-america/sustainability/environment/564171-over-1200-tons-of-dead-fish-debris-washing-onto