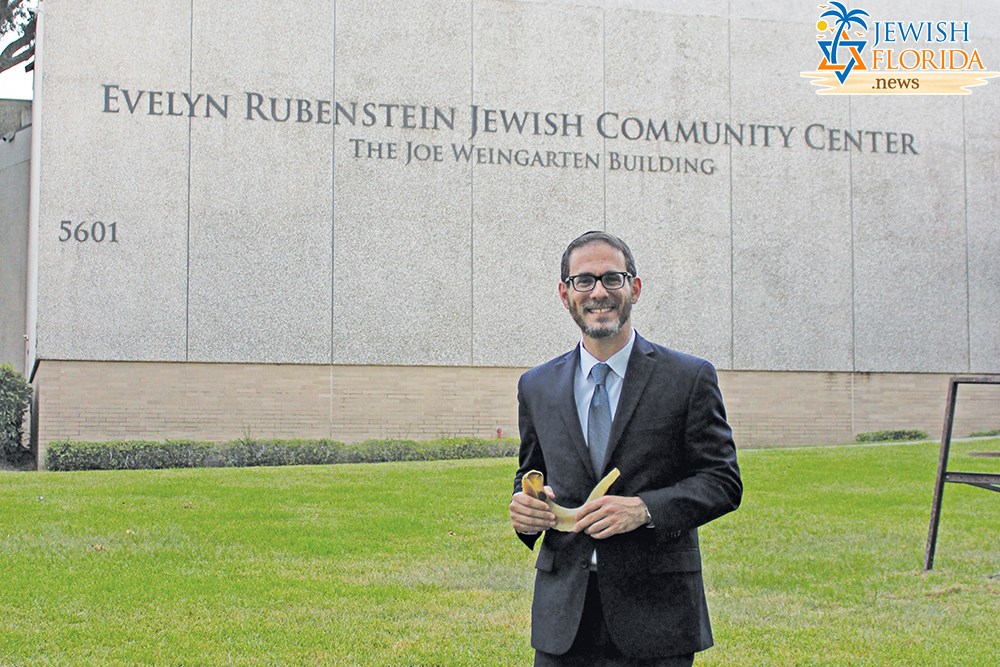 At 1:25 a.m. on June 24, Champlain Towers South, a 12-story beachfront condominium in the town of Surfside, Fla., collapsed. By Thursday, Houston Rabbi Gidon Moskovitz was in Surfside – with the blessing of The Meyerland Minyan Synagogue, where he has served for the past 16 years. In two weeks, Rabbi Moskovitz will take his place at the helm of Young Israel of Bal Harbour – six blocks from the building collapse that claimed at least 109 lives, leaving dozens more homeless.
"I went for the Shabbos right after the tragedy to be there with them, not necessarily that I can do anything other than to be there for them, and to be participating in what the community was going through," Rabbi Moskovitz told the JHV, "and what I saw then was something special."
Arriving in time for Shabbat, Rabbi Moskowitz saw Surfside sidewalks become crowded as families walked to the shul, where they came together in communal prayer, to grieve, to comfort one another and to provide support both spiritually and materially. Nationally, 9% of Jews identify as Orthodox. In Surfside, 34% do. One-third of the residents in the partial collapse of Champlain Towers are Jewish, and a number of the residents are members of YIBH.
"What Jewish people do is we look out for one another. … People rolled up their sleeves and they were volunteering," said Rabbi Moskovitz. "They were making and providing meals; they were contributing; and they were collecting stuff and distributing stuff – running around in golf carts [because] the streets were closed," said Rabbi Moskovitz. "And, it was just like chesed, which means loving kindness, there was a chesed machine going on. And, it was beautiful to watch.
Soon after Shabbat ended, the rabbi returned to Houston. He remains in contact with the YIBH community.
"I know that it's a heavy time for so many coming to the reality that [hope] has dwindled, if not disappeared altogether. And, they're coming to grips with that," said the rabbi. "I hope we come out the other side, recognizing how precious that person who's no longer with us, the one who sat maybe on the other row next to us in the synagogue, how precious they were, how much we cared for them when they were missing."
---
Revered for his spiritual guidance, and known as an insightful educator and powerful speaker, Rabbi Moskovitz became the spiritual leader for Meyerland Minyan in 2005. He has grown the congregation to more than 65 families. When he arrived, the congregation was meeting at the Evelyn Rubenstein JCC. Soon after, the shul moved into a storefront and then, in 2016, into a new building of its own in the heart of the Jewish community. A teaching congregation, Rabbi Moskowitz and his wife, Malka, are at the center of many of the classes offered at the synagogue. He's leaving Meyerland Minyan in a place of strength.
"In terms of the congregation I'm leaving, they have a lot going for them. There's a culture here that's to be envied. And, there's a group of dedicated individuals who really make up so much of the heart and soul of this shul," said Rabbi Moskovitz. "So, when the new rabbi comes in, he's going to come into a healthy place, a place where he can build off of what was already there and as a springboard to future growth."
Rabbi Moskovitz is facing a similar situation at YIBH.
"They had a wonderful rabbi there whose shoes I'm slipping into. He really left a strong legacy there that they appreciated and respected. My hope is to continue to build off of that legacy – off of what he built there and to continue the growth of the shul in Bal Harbour which, by the way, isn't that different from Meyerland Minyan," said Rabbi Moskovitz.
"It is a larger congregation. It has a lot of the same Southern hospitality, Southern warmth and is a nonjudgmental group, even though it is an eclectic group. There is a lot of diversity in both shuls, and maybe because of that diversity, they really have a certain breadth of character that really makes both places colorful and exciting to be in."
Myra Weisfeld Sadick, past president and current Meyerland Minyan board member, has studied with Rabbi Moskovitz and has witnessed firsthand many of the good works rebbetzin Malka has been involved in: counseling women, providing flood relief, organizing the shul as a distribution center for food, clothing and other necessities. "My heart is heavy thinking that Rabbi and rebbetzin Moskovitz are leaving us after 16 years. My love and commitment to Torah life has never been stronger because of their insight and spirituality."
Thankful for his time at Meyerland Minyan, Rabbi Moskovitz has some parting words.
"I want to thank the members of Meyerland Minyan who brought my wife and myself in, for trusting us, for believing in us and giving us the opportunity to grow and learn with them, as we served as the rabbi and rebbetzin the last 16 years.
"I'd also like to publicly thank El-him, the Holy One, for giving us every opportunity, from life, in particular, at Meyerland Minyan. My hope, my prayer is that He continues to shower blessings upon Meyerland Minyan, upon the Houston Jewish community, and it should continue to grow and continue to be a beacon of positivity and light to all who want to partake of it."
Rabbi and Malka Moskovitz have five children: Tzali, 20; Ayelet, 18; Naftali, 15; Elisheva, 12; and Chedva, 8, who will be hitting the beaches soon.
Source: https://jhvonline.com/meyerland-minyan-rabbi-to-leave-houston-lead-bal-harbour-florida-shul-p29354-89.htm