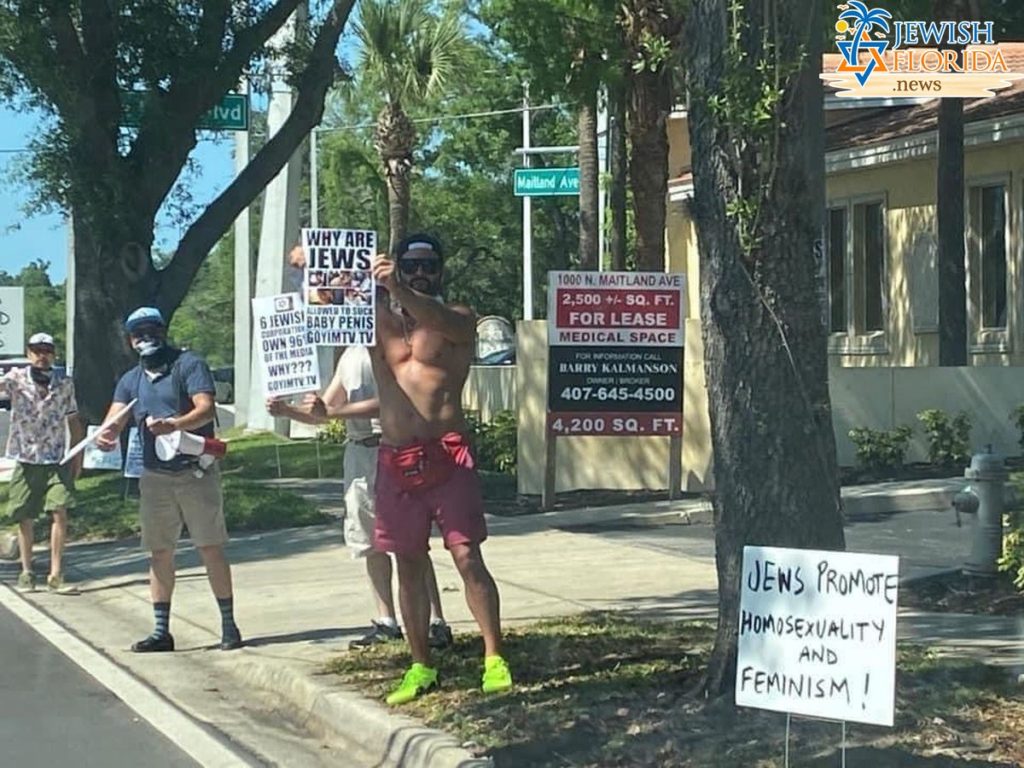 A group known for its "vitriolic antisemitism" held a protest last Thursday across the street from Maitland's Holocaust Memorial Resource & Education Center, officials said.
Maitland police Capt. Louis Grindle said the agency received a tip that demonstrators with the Goyim Defense League would be targeting the Holocaust Center and nearby Roth Family Jewish Community Center of Greater Orlando.
No one was arrested during the protest, Grindle said.
"There is a cancer in our society that is hatred and bigotry and unfortunately it is not going away," the Holocaust Center said in a Facebook post. "It is not just history. It is happening here and now."
GDL did not immediately comment when reached by the Orlando Sentinel.
A van painted with anti-Jewish messages and the phrase "stop white genocide" tried to drive on to the Holocaust Center's property May 6 but were denied entry by security, said Lisa Bachman, senior operations director at the center.
Bachman said the van then went across the street, and a group of about 10 people with anti-Jewish signs used a bullhorn to yell antisemitic slurs and handed out flyers to drivers stopped at the traffic light. No visitors were in the center at the time, she said.
"I was just disgusted that people would actually say the things that they were saying," she said. "… If anything, it only strengthened our resolve to keep doing the things that we're doing."
Grindle said one protester claimed a person on the Jewish Community Center property threw an "unknown item" that looked like mulch or small rocks at the demonstrators, striking one around the shin. No one was detained or charged in the alleged incident, he added.
The GDL is a loose network of antisemitic "provocateurs" who spread anti-Jewish conspiracy theories and deny the systematic genocide of 6 million Jewish people during World War II, according to the Anti-Defamation League.
After the Holocaust Center posted about the protest last Friday, Bachman said the center received an overwhelming number of positive, supportive messages through social media.
"That is incredibly energizing to us," she said. "[The protestors] helped us get more followers, and they helped us get more people to really engage with us to help stop them — and that's exactly what we want to happen."
"A few people came to say terrible things, but a much more significant number decided to stand by our side," she added.
Source: https://www.orlandosentinel.com/news/orange-county/os-ne-holocaust-center-antisemitic-protest-20210510-aivftllbafgpdnshowlsz5wk4m-story.html