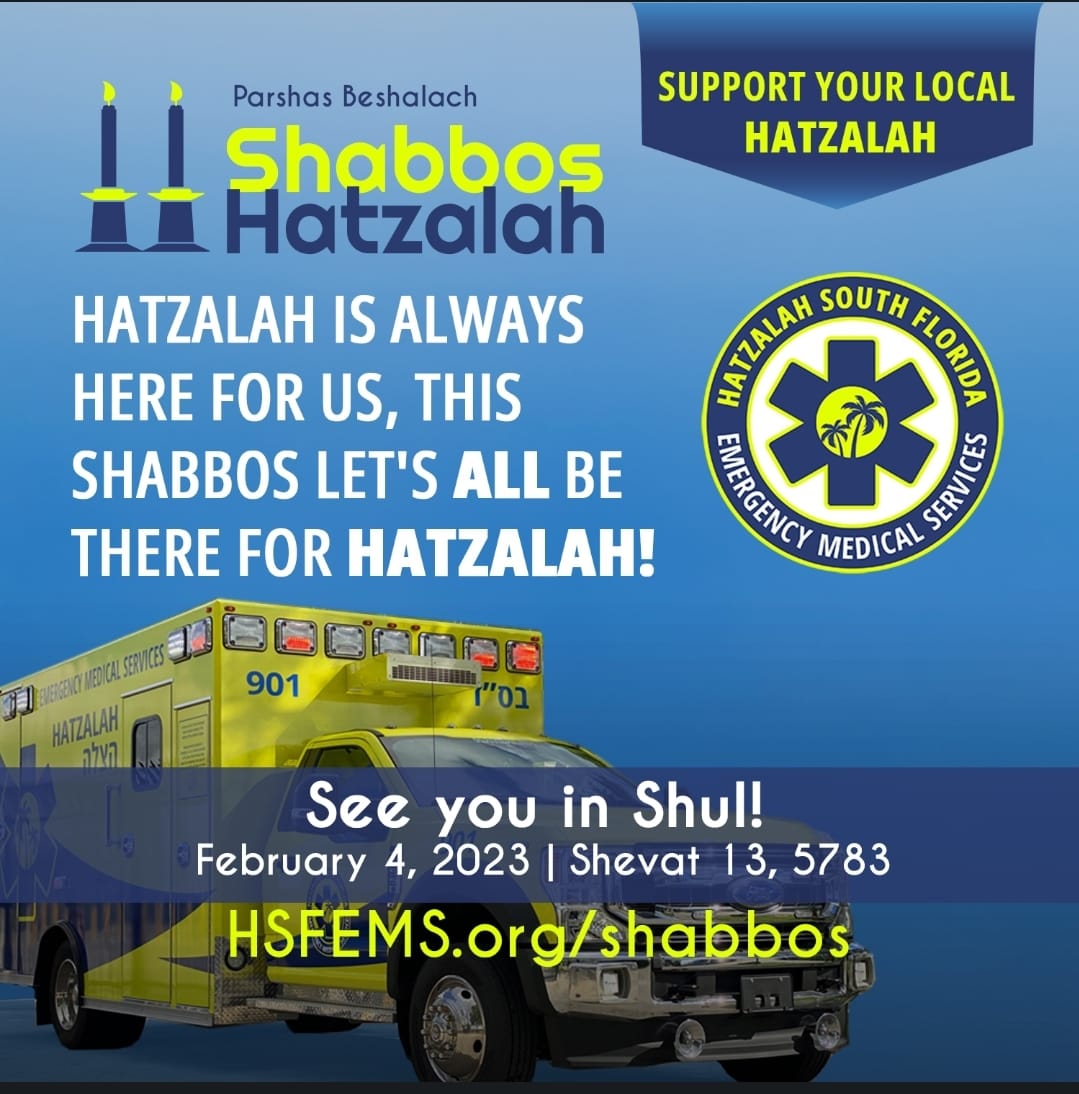 HSF will be conducting community outreach and engagement along with appeals in many Shuls & Congregations.
Shabbos Hatzalah is an opportunity to express appreciation and provide support to your local Hatzalah, who are always ready to respond in an emergency.
HSF has grown exponentially and has responded to over 4000 calls for help in 2022 alone. With over 200 paramedics, EMT'S and 9 ambulances in service across 13 cities, the organization is extremely grateful for the partnership and trust of the community.
Please support & partner in the lifesaving work of HSF.
https://www.hsfems.org/shabbos
Quick facts about Hatzalah South Florida:
– 13 yr presence in the SOFL community
– EMS services in 3 counties, 13 cities from South Beach to Boca Raton and expected to expand to many new cities in 2023.
– Today HSF attends to more than 4,000 emergency calls annually (10+ per day!) up from 1,200 calls in 2021!
– Fun fact: during Yeshiva week our daily call volume exceeded 20+ calls per day. Friday alone, we had 30 calls, becoming the busiest day in our history.
– HSF started transporting with our own ambulances in January 2022, after a HSF lead a change in Florida state legislation signed by Governor DeSantis in June 2021 sponsored by Senator Pizzo and House Representative Carusso
– Our team of volunteers includes more than 200 licensed dispatchers, EMTs paramedics and Doctors.
– HSF has an independent radio network with 8 antenas with a channel approved by the FCC.
– HSF IS OUR LOCAL Hatzalah. Not related financially to any other Hatzalah chapter in NY or Israel. HSF is an independent 501c3 (not for profit organization)
– Services are free of charge
– All responders are volunteers
– Per Florida statutes, Hatzalah can not receive government funding
– HSF operations are funded exclusively by the generosity of donors from our community.
– HSF Budget has grown in 4 years from $250k to over $1.5M, as call volume and membership quadrupled.
– HSF has the largest coverage area of any single Hatzalah chapter in the USA.
– Anywhere you go in South Florida you can call the same number and get the same level of training and protocols.
– WE CAN ONLY have that with the support of our community.