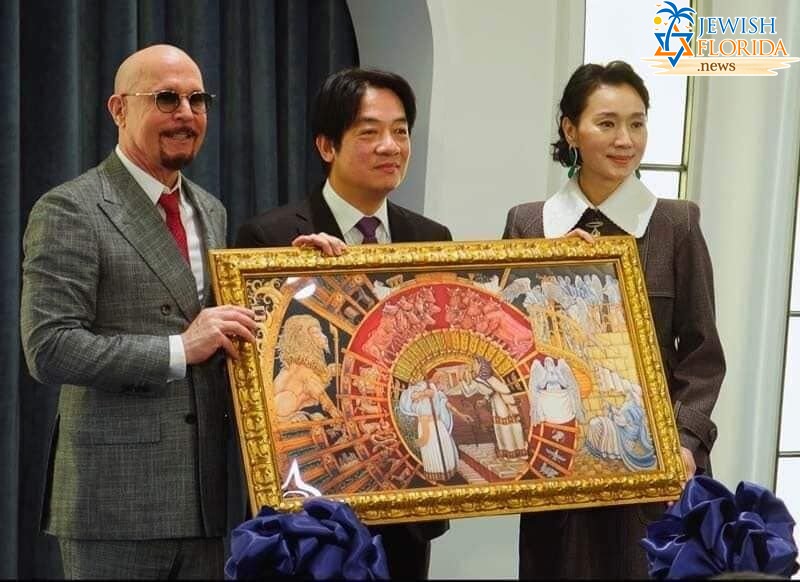 While growing up, Mauricio Alberto Avayu Eidelstein spent a lot of time in his room in Santiago, Chile, focused on creating and materializing his inner world.
Now 53 years old and an accomplished mural artist based in Aventura, Fla., Avayu is behind several large-scale murals and other highly-detailed works featured in buildings and exhibitions around the world. One of his most-recent commissioned works appears in the newly unveiled Jeffrey D. Schwartz Jewish Community Center in Taipei, Taiwan, which opened to the public in December 2021. The complex, which is Taiwan's first Jewish community center, was created by former Clevelander Jeffrey D. Schwartz and his wife, Na Tang. In addition to the mural that appears in the JCC's ballroom, some of Avayu's other works are owned by foreign dignitaries and nationals, as well as decorate several synagogues around the world.
As a Chilean Jew, Avayu told the Cleveland Jewish News that he had always been drawn to Jewish art, even from a young age, when he realized other artists lacked understanding of the Jewish experience.
"Renaissance artists used to say that each creation is a portrait of the artist," he said. "One day, seeing a scene from Michaelangelo's Sistine Chapel, I realized that while he was a great genius, he had many serious mistakes in the way of telling the Torah story. He changed the deep meaning of the sacred texts. It is at that moment that I decided to start what would be my project and the legacy of my life – which thanks to G-d, that path has been illuminated. Hundreds of hours of study and hard work, perfection, inspiration and discipline are its main ingredients."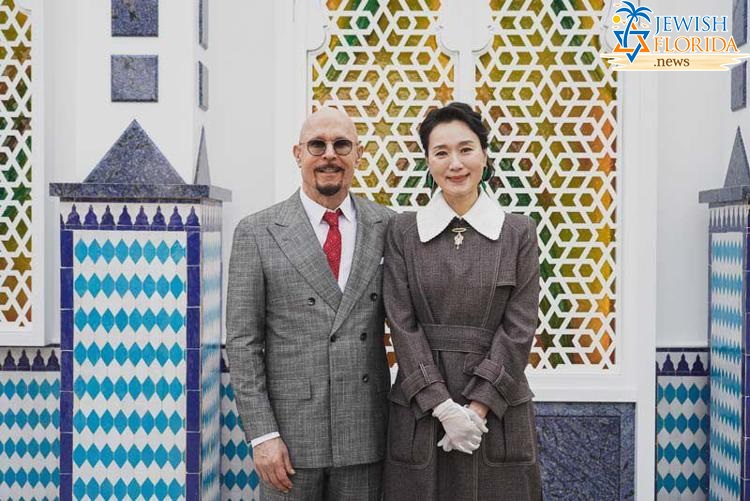 Though the Chilean Jewish community is "very small," Avayu said he was fortunate to have access to "the best Kabbalah teachers" and the "extreme generosity of great rabbis to teach me and help me study."
"This gave me the ability to paint the great works that are already in several countries around the world, including Israel, Chile, Mexico, Israel, the United States and Taiwan," he said. "(People) have already been able to enjoy and be inspired by the beauty of their images and get excited by the hundreds of details decoded for the understanding of the viewers."
Specifically for his Jeffrey D. Schwartz Jewish Community Center project, Avayu said Schwartz reached out to him directly through email, explaining the mural had "touched his heart." The mural that sits in the Taipei JCC, which is three pieces, is part of a larger mural project, called the "Bereshit" Torah mural.
"We adjusted some of the details of the work with him, his wife and the rabbi of the Chabad synagogue in Taipei," he said. "Mr. Schwartz also commissioned limited edition oil retouched silk prints of this mural, one of which was given to the vice president of Taiwan and to other people invited to the grand opening in December 2021. … Finally, a part of the Torah mural found a home where it could be seen by many people and it will share all of the information and wisdom of the Jewish people."
As for current projects, Avayu said his studio is constantly full of pieces that he'd consider "in progress." He also continues to work on parts of the "Bereshit" Torah mural – which once finished will be composed of 40 parts.
"It is a unique project, the closest to it being the Sistine Chapel," he said. "Today, this Torah mural is more than a project – it is a reality. Once finished, it measures more than 164 feet in length and will be exhibited in a circular shape. It will be the first time that a Jew takes on this challenge. I hope that I will be able to find the support to be able to continue and finish it. If I could only focus on this work, I would need five years to finish. I just hope it continues to bring light to each of its spectators."
Source: https://www.clevelandjewishnews.com/news/local_news/florida-based-artist-behind-taiwan-jcc-mural/article_c3d1b5e4-c4bd-11ec-bdda-a7e6f74c1df2.amp.html