The Young Jewish Conservatives' Purim luncheon at the annual Conservative Political Action Conference (CPAC) had everything: a speed reading of the Megillah by Rabbi Shmuley Boteach, hamentaschen, a kid from Brooklyn dressed in a red squid costume, a comedian in a Rush Limbaugh sweatshirt, and a comparison of Democratic U.S. Rep. Ilhan Omar to Haman.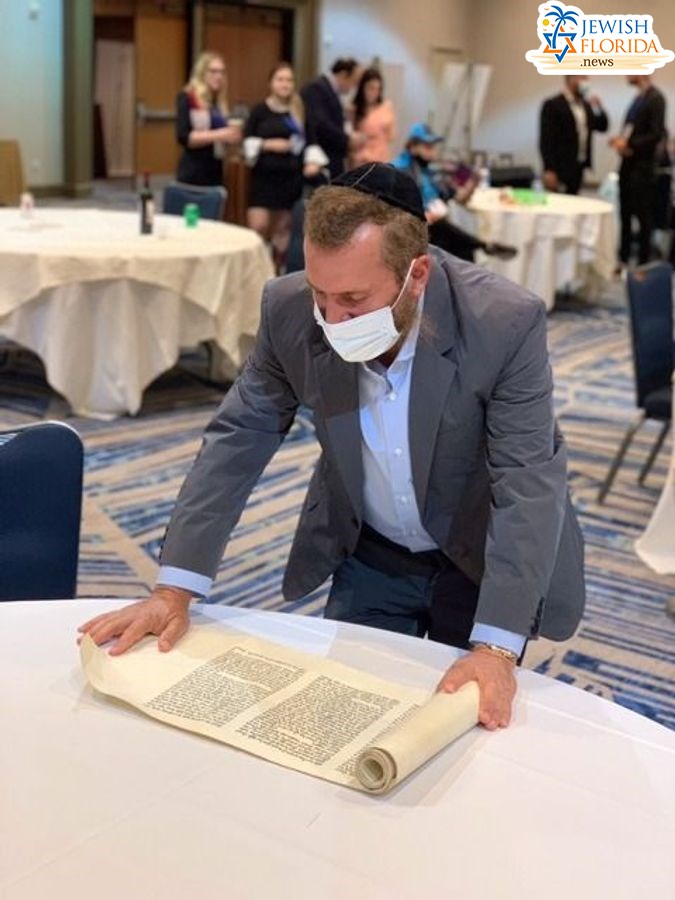 True, the festive gathering of 80-100 Jewish conservatives at the Hyatt Regency Hotel was only a sideshow to CPAC, the annual, weekend, right wing extravaganza. But what it lacked in numbers, YJC's Purim luncheon and Shabbat services made up for in enthusiasm. If some in the Republican Party have been turned off by former President Donald Trump and the chaos that ensued when he rejected the results of the 2020 election, they weren't in evidence in the Orlando ballroom.
One of the most popular photo ops in the exhibition hall was a gold statue of Trump — but one didn't hear a single Golden Calf joke.
Sponsored since 2012 by Young Jewish Conservatives (YJC), the meeting came two days before CPAC's marquee event, Sunday's keynote address by Trump himself.
The YJC crowd in the Florida Ballroom was not visibly religious or Haredi. There was a scattering of beards, but just one black hat and long coat, and a handful of visible tzitis. The only time a small, makeshift mechitza was wheeled in was during services, held three times a day throughout the weekend. There was mixed seating for the kosher holiday meals, during which recorded Israeli music played. All conversations were off the record to journalists, except for atmospherics.
"I'm here at CPAC to continue President Trump's complete overhaul and rethinking of the failed establishment paradigm in US-Israel relations," Zach Daniel Huff, an American-born veteran of the Israel Defense Forces and a political activist, said outside the ballroom.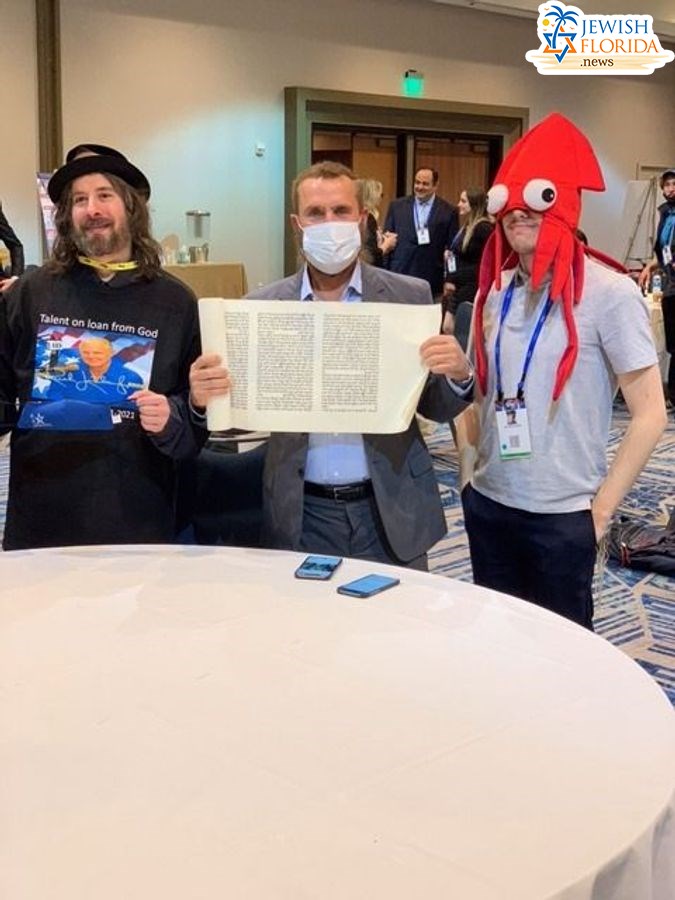 CPAC, dubbed years ago "the Conservative Woodstock," is hosted by the American Conservative Union, and regularly draws thousands of right-wing activists, true believers, cranks and publicity seekers, as well as Republican political hopefuls. A North Carolina congressman, Ted Butts, considering a race for an open seat in the U.S. Senate next year, shared some remarks with the YJC members in the ballroom.
According to its mission statement, the YJC says it "is a national grassroots coalition that unites politically active conservative young Jews" and provides "them with the tools to defend their values and advocate for conservative causes."
The conference, usually held at a now-closed Maryland hotel in the Washington, D.C. suburbs, was moved to Florida, in the shadow of Disney's Magic Kingdom, where Republican Gov. Ron DeSantis, a Trump acolyte, has opposed all restrictions on businesses during the pandemic. Still, Orlando is a Democratic town, so mask wearing was strictly enforced throughout the hotel, prompting a good deal of grumbling.
The change of venue lowered YJC attendance, dropping from 250 last year to around 100.
In a less than welcoming editorial, headlined "CPAC circus coming to Orlando," the Orlando Sentinel wrote,"One thing seems certain, this conference will feature plenty of bluster, grievance, finger-pointing, media-bashing and conspiracy-mongering, but almost no introspection and self-reflection about the swift and jarring devolution of the Republican Party and American conservatism."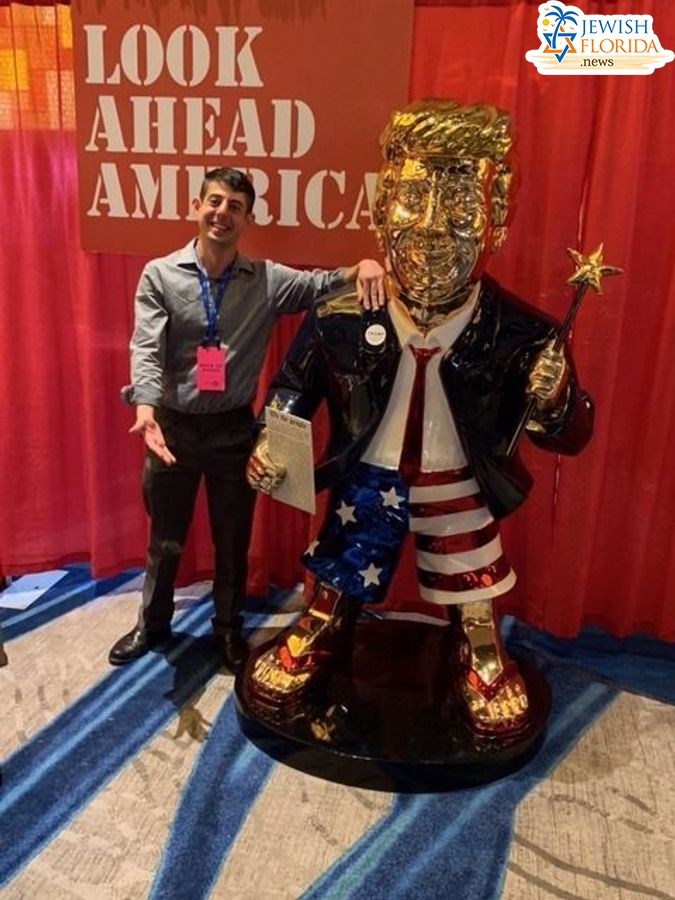 The red meat theme of this year's conference is "America Uncanceled," a jab at the Left. But the week before the gathering organizers cancelled a scheduled CPAC speaker, a rapper named Young Pharaoh, when the progressive watchdog group Media Matters revealed numerous raw, antisemitic statements he posted.
YJC Co-founder Yitz Tendler, an Atlanta Orthodox rabbi, was one of those who tipped off CPAC organizers about the rapper. Tendler called the decision to invite him "an honest mistake."
On the left, predictably, hilarity and mockery ensued, but neither Tendler, a fellow at CPAC's sponsoring American Conservative Union, nor anyone else in the Florida Ballroom, would say whether CPAC should have done a better job in vetting its speakers.
The substance of the YJC came in a Friday afternoon breakout session, entitled "In Every Generation: Ancient Lessons for the Modern Fight for Israel," that Tendler moderated.
Former Ohio state treasurer and U.S. Senate hopeful Josh Mandel talked to the crowd about his family's deep Jewish roots – his grandparents were Holocaust survivors.
But the star of the panel was Richard Cravatts, president emeritus of Scholars for Peace in the Middle East.
The silver-haired academic continued the conservative trope of equating and – arguably conflating – campus criticism of Israel with antisemitism, "in the name of social justice."
"America and Israel share values – morality, law, and social justice," Cravatts said, in marked contrast to all other nations in the region.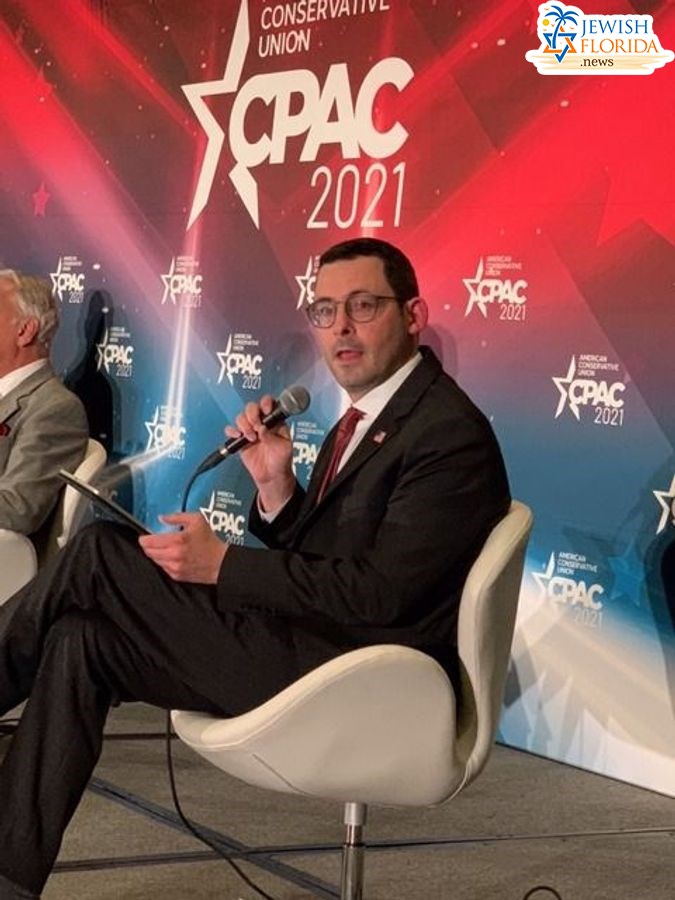 Campus coalitions of "left-wing academics," and Palestinian, Black and LGBT students unfairly single out Israel for criticism, he said, in rhetoric that often spills over into anti-Semitism.
Not everyone at the session was convinced. Said one attendee, who spoke on condition their name not be used, "I'm less political than when I walked in." .
Source: https://forward.com/news/464894/at-cpac-jewish-republicans-are-still-all-in-for-trump/