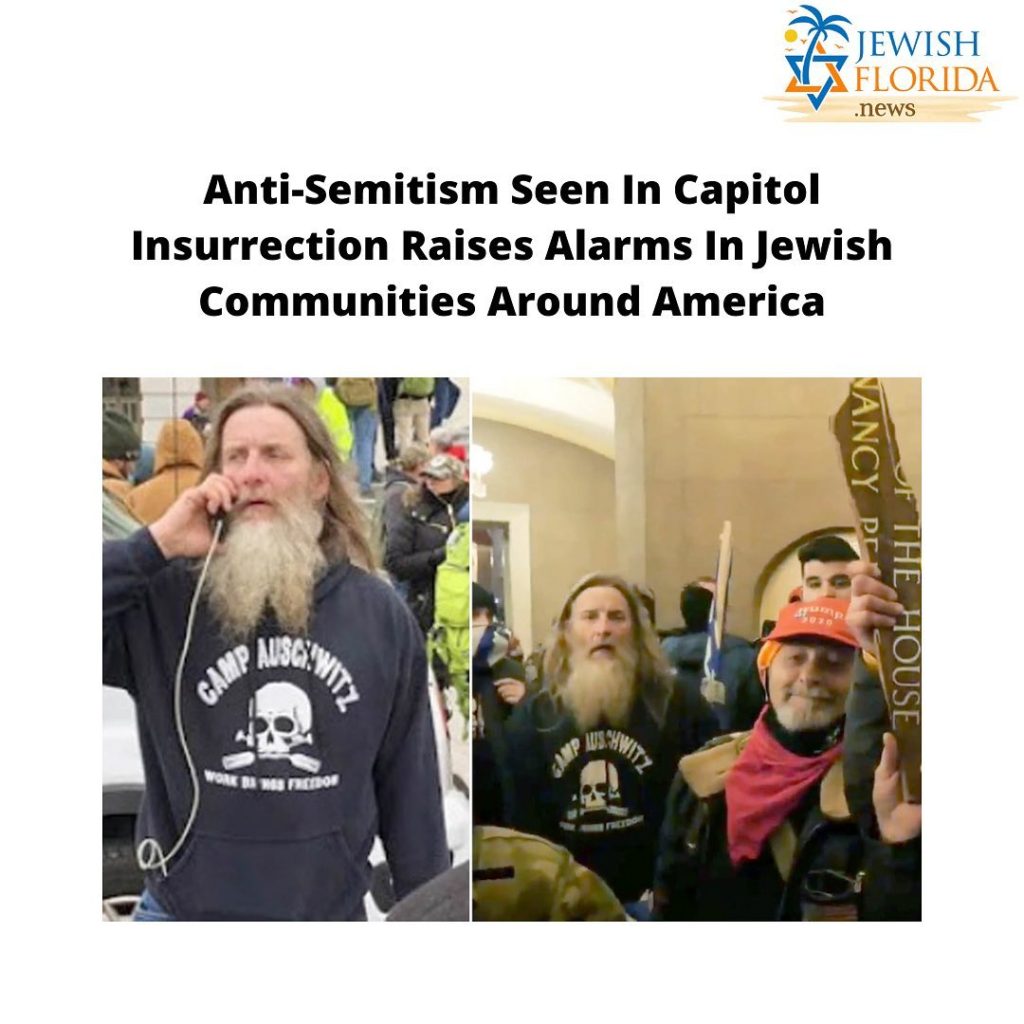 Photographs captured a man in the crowd of the Capitol Insurrection wearing a shirt emblazoned with "Camp Auschwitz."
Two white nationalists known for racist and anti-Semitic rhetoric livestreamed to their online followers after breaking into the Capitol during the deadly insurrection.
A video circulated on social media showed a man harassing an Israeli journalist who was trying to do a live report outside the building.
The presence of anti-Semitic symbols and sentiment at the Capitol riot raised alarms among Jewish Americans and experts who track discrimination and see it as part of an ongoing, disturbing trend.
The insurrection was "not so much a tipping point" for anti-Semitism but rather "the latest explicit example of how (it) is part of what animates the narratives of extremists in this country," said Oren Segal, vice president of the Anti-Defamation League's Center on Extremism.
On Tuesday, the Miller Center for Community Protection and Resilience at Rutgers University-New Brunswick and the Network Contagion Research Institute released a report that identified at least half a dozen neo-Nazi or white supremacist groups involved in the insurrection.
Anti-Semitic incidents in the U.S. hit a four-decade high in 2019, according to the ADL's internal tracking.
Although some high-profile recent anti-Semitic attacks were not linked to far-right groups — such as the 2019 assault on a New York rabbi's Hanukkah party — several others were, most prominently the deadly 2017 white nationalist rally in Charlottesville, Virginia.
Three-quarters of extremist-related murders in the U.S. over the past 10 years were committed by right-wing extremists, Segal said, citing ADL data.
The man photographed wearing the Auschwitz shirt was arrested in Virginia Wednesday. Robert Keith Packer, 56, was arrested in Newport News, charged with violent entry and disorderly conduct on Capitol grounds, and knowingly entering or remaining in any restricted building or grounds without lawful authority.
David Harris, CEO of the American Jewish Committee, said not everyone who came to the Trump-promoted rally that preceded the assault on Congress was "stoked" by extremist